home

Why Seoul
Industrial Clusters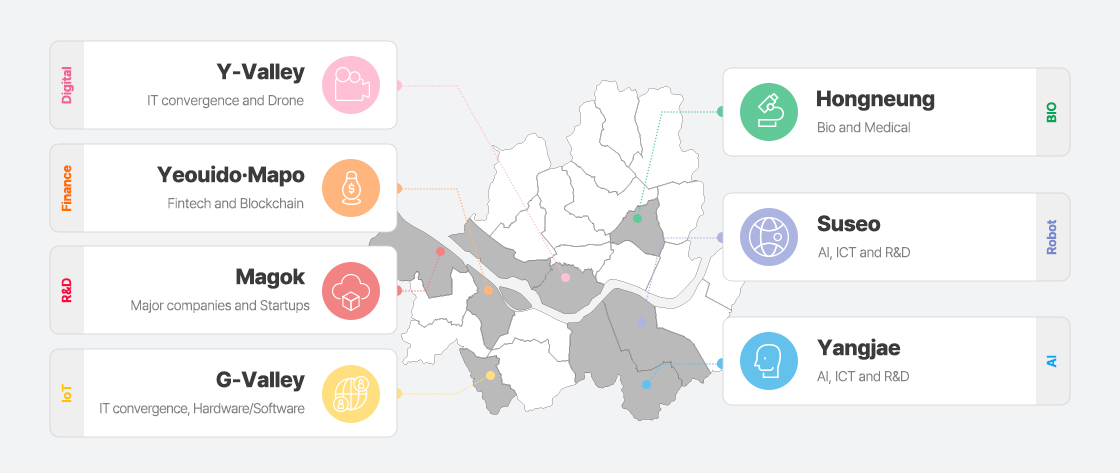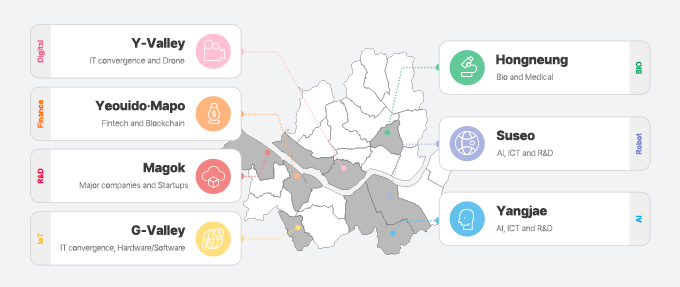 Y-Valley IT Convergence and Drones
This district emerged as a hub for the distribution of computers, peripherals, and various electronic products after the governmentled Yongsan Electronics Shopping Mall was established to foster the electronics industry in 1987. However, it has since suffered a crisis due to its inability to keep up with the rapidly-changing distribution trends since 2000. In February 2017, the Yongsan Electronics Market area and its vicinity were designated as an urban regeneration-vitalization area, which prompted merchants, facility owners, Seoul City, Yongsangu District, and strategic institutions to collaborate in introducing new changes to the area. The district has since begun writing a new history as an innovation platform in the era of Industry 4.0 by revitalizing the existing distribution industry and nurturing new industries such as drones, AR/VR, and robots, reimagining itself as "Digital Maker City, Yongsan-Valley."
Yeouido-Mapo Fintech and Blockchain
This district began to be developed as the financial center of Seoul as the Korea Stock Exchange relocated to the area in the late 1970s. It is also called "Korea's Wall Street" because it is home to a large number of banks, securities companies, investment companies, and the Financial Supervisory Service(FSS). Starting with the opening of the first Fintech Lab in Mapo in 2018 with the aim to revitalize the city's financial center and enhance its global competitiveness, Seoul opened the second Fintech Lab in Yeouido in 2020. Today, the area is leaping forward to become Asia's digital finance hub by establishing the Seoul Digital Finance Hub Support Center by 2025, fostering digital finance specialists through the Fintech Academy, and hosting the Fintech Festival.
Magok Major Companies and Startups
Magok is an eco-friendly cutting-edge industrial complex, a cluster that combines high-tech industries and residential areas. It is not only serving as the growth engine for innovation where R&D capabilities of large and small enterprises centered on future- oriented high-tech sectors (IT, BT, NT, GT) are concentrated, but also developing as the largest MICE (meeting, tourism, exhibition, event) complex in southwest Seoul. Nexen Tire, Toray Advanced Materials, S-OIL, LG Science Park, and Kolon Future Technology Institute are Magok's representative global companies.
G-Valley IT Convergence, Hardware & Software
G-Valley was originally established in the 1960s as an industrial complex centered on textile and sewing industries to foster Korea's export industry. In recent times, it is rapidly transforming into an urban hightech industrial complex as high value-added cutting-edge industries and venture companies centered on information and knowledge-based industries have moved into the area, which is now referred to as "Korea's Silicon Valley."
Hongneung Bio and Medical
This area is a bio hub created by the Seoul Metropolitan Government in northeast Seoul (Hongneung) to vitalize the biomedical startup ecosystem and develop the healthcare industry, thereby opening the Seoul Bio Hub as an innovation platform for bio startups in 2017. It possesses high potential as an industry base of new growth for bio and medical startups, with a number of universities, research institutes, and hospitals concentrated around this bio-hub. Seoul Bio Hub is a home to a total of 109 companies, including 35 pharmaceutical field, 30 medical device field, and 35 digital healthcare field. In addition, the hub supports collaboration between global bio companies, such as Johnson & Johnson, Janssen, Novartis, and MSD as well as startups, with the aim to commercialize bold technological ideas.
Suseo Robotics, AI and ICT
The Seoul Metropolitan Government selected this district as a target area for the "Robot Plus Competitiveness Support Project" in June 2020, and plans to invest a total of KRW 34.7 billion to build it into a robot and AI research facility. This area is expected to serve as a basis for enhancing the competitiveness of the Industry 4.0 sectors, focusing on attracting robotics companies, the creation of venture towns and testbeds, and the composition of cooperative governance. Seoul Metropolitan Government aims to develop the Suseo area into one of the world's top 3 robot clusters along with Massachusetts in the United States and Odense in Denmark.
Yangjae AI, ICT and R&D
The Seoul Metropolitan Government created this cluster to prepare for Industry 4.0. Having established "AI Yangjae Hub" as a technology startup incubator in 2017, this district fosters talents related to artificial intelligence and big data and discovers AI-specialized companies, providing them with incubation, commercialization funds, technical advice, in addition to marketing as a way to support their growth into global unicorn companies. Accordingly, the Seoul Metropolitan Government plans to open the "AI Support Center" in partnership with the KAIST Graduate School of AI in 2023 and the AI R&D Campus as a core part of the public anchor facility in 2027. In addition, Seoul is aiming for the "The Yangjae Era: An AI Industry That Represents Korea" by designating this area as a specialized zone and district that has a high concentration of research centers for large corporations such as Samsung, Hyundai, LG, and KT, in addition to 280 SMEs-affiliated research institutes.