home

INVEST SEOUL
Who We are
Invest SEOUL
The main goal of Invest Seoul is to help foreign investors find a successful business.
By communicating with investors via various languages, we provide massive support for the sustainable growth of foreign-invested companies.
With innovation and success, Invest Seoul will be with you.
Based on our extensive knowledge and rich experience, we provide multi-stage support programs optimized for the needs of foreign investors, in collaboration with specialized institutions from various industries, private-sector experts from various fields, and the central government,
Furthermore, Invest SEOUL endeavors to faithfully serve as a reliable investment platform, creating constructive value for investors, enterprises, and partners, in addition to industries based in Seoul. We will be a faithful companion both to foreign investors who seek to invest in the future of Seoul as well as businesses in Seoul that are aspiring to become global companies.
Vision

Making Seoul a leading
hub of global business, innovation,
and talent in Aisa

Mission

We are committed to serving as a devoted business partner, leveraging our expertise to provide active support across the full business cycle from foreign investment promotion to shared growth.

Core Values

- Comprehensive
- Customized
- Connected
City of Optimized Business Environments
01 Seoul, the city of innovation

Availability of high-speed communication network systems (e.g.5G) and free public Wi-Fi as one of the world's top digital cities.
Realization of governance convenience and transparecy through a global top-quality e-government system.(Korea ranked No. 1 in the E-participation Index (EPI) on two consecutive occasions and No. 2 in the E-Government Development Index (EGDI) of the UN e-Government Survey in 2020).
Availability of convenient public infrastructure systems for affordable access, such as transportation, telecommunication, electricity, and water supply.

02 Seoul, the leader of global brands

Home to more than 70 percent of the world's largest corporate brands with advanced technologies, such as Samsung, Lg, and Hyundai.
More than half ot the Fortune Global 500 companies, including Apple, Microsoft, Boeing, Amazon, Royal Dutch Shell, Exxon Mobile and Facebook, have made inroads into Korea.

03 Seoul, the city of future investments

Strategic support for industrial clusters focusing on new growth engine industries such as research and development (Biotechnology / Medical Care / Pharmaceutical Industry), information and communication technology (IT/ICT), artificial intelligence (AI), and service (media, digital content).
Korea has 18 unicorns, 16 of which are in Seoul(Korea ranked No.5, tied with lsrael, by Cb lnsights in 2021 & MSS)
City of Top Talent
Keen enthusiasm for education
and high college enrollment rate

(college graduation rate in
25-34
age group with 70%) Korea ranked No. 1
among OECD top 5

Excellent educational
enviroment

Korea's college education system

ranked No.9 in the world
and ranked no. 2 in Asia

Global Cities Talent
Competitiveness Index

Seoul ranked No.10 in Enable
and No.6 in Grow
overall: ranked no.1
※ Source: Education at a Glance, 2021 by OECD, Quacquarelli Symonds, 2018, The Global Cities Talent Competitiveness Index by INSEAD, 2019D
Seoul, a megacity with a population of over 10 million
One-fifth of the Korean population (10 million) live in Seoul, forming a massive consumer market.Thanks to its open culture with early adopters' propensity to try new products, along with the discerning insight of Korean consumers, Korea is leader of global trends and a testbed for various market areas including IT, content(games/music/movies), food, fashion, cosmetics, and daily necessites.
The Ranks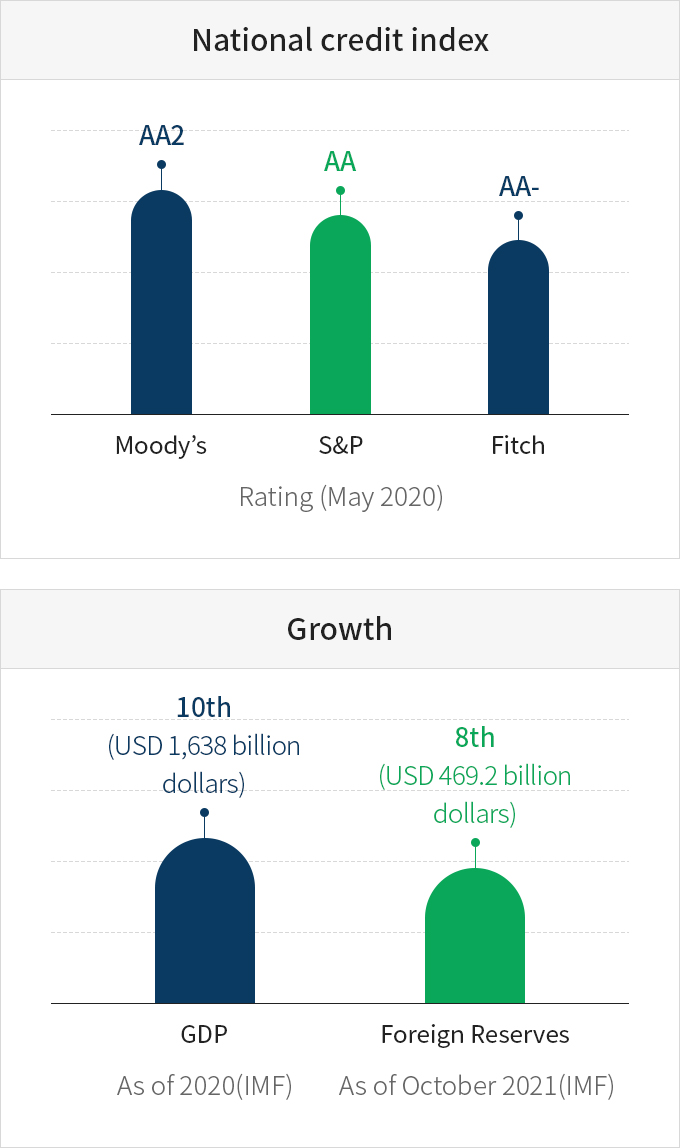 National credit index - Rating (May 2020)
Moody's : AA2
S&P : AA
Fitch : AA-
Growth
GDP : 10th(USD 1,638 billion dollars) As of 2020(IMF)
Foreign Reserves : 8th(USD 469.2 billion dollars) As of October 2021(IMF)
01 Ranked No.2 in
investment in R&D
versus GDP

Announced by the OECD in 2020

02 Ranked No.3 among cities
for international
conferences

In 2021, the Union of International Associations (UIA) selected Seoul as the 3rd best City to hold international mettings for 6 consecutive years.

03 Ranked No.5 among
enterprise-friendly
countries

The World Bank Groups' Business Environment Assessment 2019: Ranked No.5 among 190 countries subject to assessment

04 Sustainable Cities Index :
Ranked No. 7in social
sustainability (quality of life)

Sustainable Cities index 2018 pubilshed by Arcadis: Ranked No.7 out of 100 cities subject to assessment

05 Ranked no. 10
in national
brand value

Brand Finance 2021: Increased by 0.9 percent compared to the last year

06 Entered the top 16 for the first time
in the ranking of top 30
global startup ecosystems

The Global Startup Ecosystem Report 2021, Startup Genome